History of Bold Lipsticks
The history of bold lipsticks dates back to ancient Egypt, where both men and women used red lipstick made of crushed insects to signify their social status. This trend continued into the Elizabethan era, with Queen Elizabeth popularizing bright red lips. History.com provides a fascinating look at the evolution of lipstick colors throughout the ages.
Fast forward to the 1920s, and silent movies played a significant role in increasing the popularity of bold lips. Actresses were required to have them for appearances on screen, making bold lipstick a must-have for many women. Marilyn Monroe's iconic red lip in the 1950s was achieved by blending five different shades, showcasing the versatility and creativity of lipstick application.
In recent years, there has been a shift toward unconventional lip colors and matte finishes. Charlotte Tilbury's Pillow Talk lipstick, first introduced in 2013, is a versatile and iconic product that sells every two minutes. The brand even created an entire collection dedicated to the popular nude-pink shade. Check out the perfect for summer. Makeup can also depict the evolution of characters, like the changes in Daisy Jones's makeup in Daisy Jones & The Six. A skincare product that has garnered high praise for instantly improving skin texture and reducing clogged pores can be found here.
In conclusion, the history of bold lipsticks is rich and varied, reflecting societal changes and individual expression. From ancient Egypt to modern-day trends, bold lipstick remains a staple in the world of beauty.
Iconic Bold Lipstick Moments
Bold lipsticks have always been a statement in the world of fashion and beauty. From the early days of Hollywood glamour to modern red carpet events, these striking shades have left a lasting impression. Let's take a walk down memory lane and revisit some of the most iconic bold lipstick moments.
Classic Hollywood Glamour
Marilyn Monroe and Elizabeth Taylor were pioneers in the bold lipstick movement. Their signature red lips became synonymous with glamour and sophistication. Monroe's favorite shade was a fiery red, while Taylor opted for a deep crimson. These legendary actresses paved the way for future generations to embrace bold lip colors.
Pop Culture Influence
The power of pop culture cannot be underestimated when it comes to makeup trends. Taylor Swift, known for her signature red lip, often wears the LiquiLUST: Legendary Wear Matte Lipstick in shade Elson 4 from Pat McGrath Labs. Her bold lip look has inspired countless fans to experiment with vibrant shades.
Reviving the '90s
Frosted lipstick, a popular trend in the '90s, has made a comeback in recent years.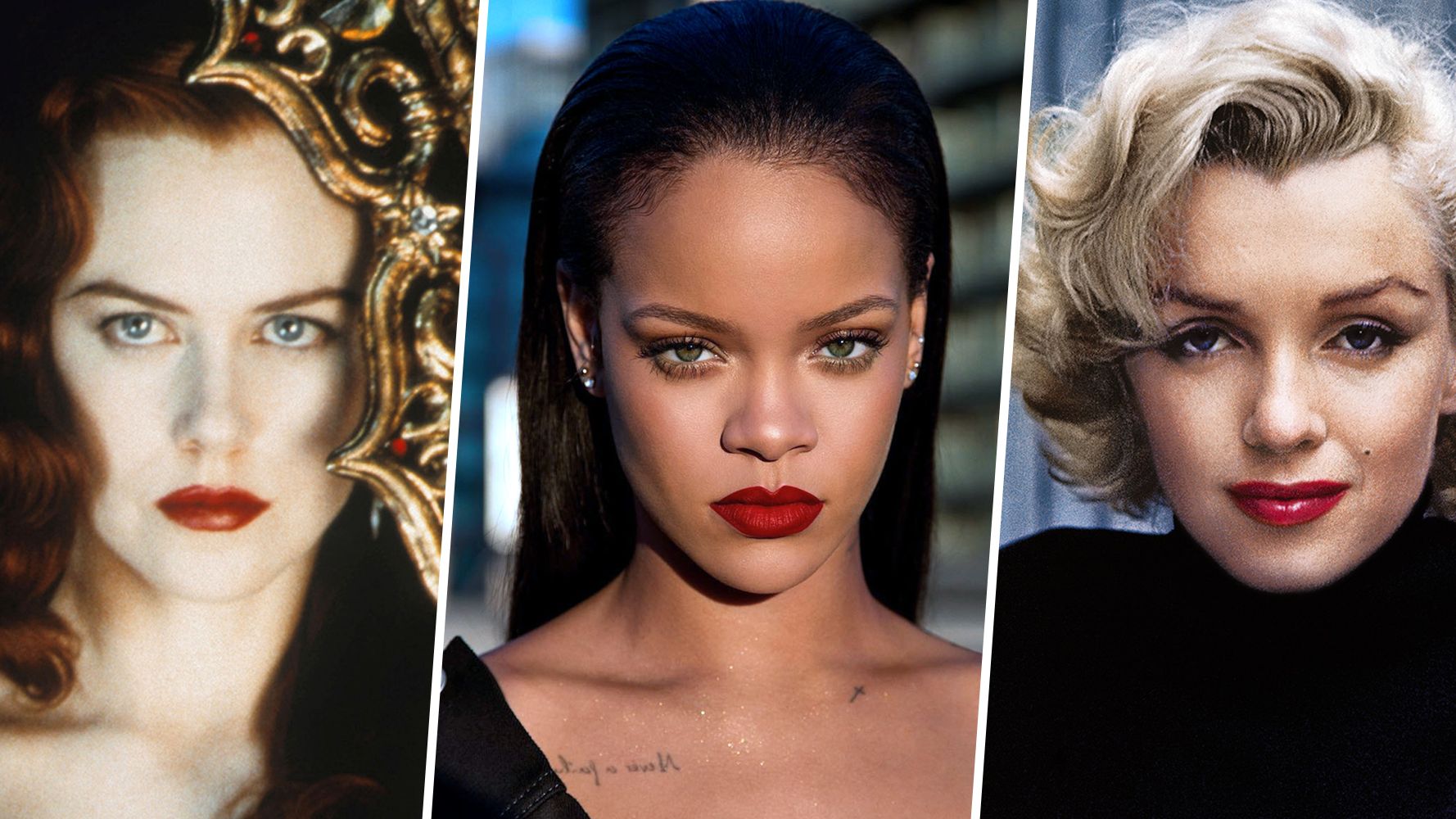 Celebrities and influencers alike have been spotted rocking this shimmery style on red carpets and social media. The resurgence of this nostalgic trend proves that bold lipstick looks are here to stay.
Maximalism and Metallics
Bold, unapologetic maximalism is the current trend for lip products. Metallic finishes and two-toned lips have become favorites among beauty enthusiasts. These daring looks push the boundaries of traditional lipstick styles and encourage creativity in makeup application.
Expert Recommendations
Celebrity makeup artists, such as Nick Barose, have been instrumental in creating memorable bold lipstick looks. Barose, who has worked with numerous A-list clients, recommends products like the Gucci Velvet Matte Lipstick and Milani Stay Put Liquid Lip Longwear Lipstick for achieving the perfect bold lip.
In the ever-evolving world of beauty, bold lipsticks continue to make a statement. From classic Hollywood glamour to modern trends, these iconic moments remind us that a bold lip look is timeless and always in style.
Choosing the Right Bold Lipstick
Choosing the perfect bold lipstick shade for your skin tone can be a daunting task, but with a few simple tips, you can find the ideal color to make a statement. The key lies in understanding your skin's undertones, which can be warm, cool, or neutral. To determine your undertone, check the color of the veins on your wrist. Green veins indicate warm undertones, while blue or purple veins reveal cool undertones. If your veins match your skin tone, you have neutral undertones.
Colors for Different Undertones
Once you've identified your undertone, it's time to select a lipstick shade that complements it. For cool skin tones, opt for blue-based reds, mauves, and pinks. Warm skin tones should choose orange-based reds and browns. Neutral skin tones have the flexibility to try both cool and warm-toned shades.
Experiment with different shades and finishes, such as matte, satin, or glossy, to find the perfect bold lipstick for your skin tone. For instance, Maybelline New York Superstay Liquid Lipstick offers a highly pigmented formula that lasts up to 16 hours, while Inglot AMC Eyeliner Gel 77 and Lise Watier Dramatique Gel Liner are perfect for creating a stunning eye look.
Prep Your Lips for a Flawless Finish
Before applying your bold lipstick, ensure your lips are well-prepared. Exfoliate and moisturize your lips for a smooth canvas. Using a lip liner can help prevent feathering or bleeding of the lipstick, making it last longer.
In summary, finding the perfect bold lipstick shade involves identifying your skin's undertones and choosing a lipstick that complements it. Experiment with different shades and finishes to discover your ideal bold lip color. And don't forget to prep your lips for a flawless finish!
Application Tips for Bold Lipsticks
Achieving a flawless bold lip look is easier than you might think. With the right techniques and a little practice, you can confidently rock a bold lipstick that lasts all day. Here are some essential tips for applying bold lipsticks like a pro.
Prep Your Lips
The key to a perfect bold lip starts with lip prep. Remove any dry, dead skin by gently exfoliating your lips. Follow up with a moisturizing lip balm to keep your lips soft and hydrated. This step is crucial for a smooth and even lipstick application.
Choose a Lip Liner
To boost the staying power of your bold lip, start with a lip liner that matches your lipstick shade. Outline your lips and blend the liner towards the middle. This creates a base for your lipstick and helps prevent feathering and smudging. Check out Pat McGrath Labs are leading the charge with their LiquiLUST Legendary Wear Matte Lipstick in Elson 4, boasting a 4.6-star rating from Sephora shoppers. This formula offers a smooth, soft matte finish that lasts up to 12 hours, perfect for making a statement at any event.
Unconventional Shades
Dare to be different with unconventional lipstick shades like black, blue, and other unique colors. This rising trend is all about self-expression and makeup for art's sake. Embrace your inner artist and experiment with bold shades that showcase your individuality.
Gym Lips
Gym lips are all about defining and conditioning your pout. Use a lip liner to create a sharp outline, then apply a lip mask to keep your lips hydrated and nourished throughout the day. This trend is perfect for those who want a subtle yet striking look.
Berry Beautiful
Berry lip colors are in this season, with glossy berry lipstick being especially popular for attention-grabbing looks. Darker shades of red, including berry and wine tones, complement every skin tone and desire. Opt for creamy formulas that offer a moisturizing effect, ensuring your lips feel nourished all day long.
Heat-Proof Looks
As the temperature rises, heat-proof makeup looks are worth trying. Twinkling metallic lids, barely-there brows, and layers of blush are some of the biggest beauty trends for summer 2023. Pair these with a bold lip color to create a stunning, summer-ready look.
Incorporating these trends into your makeup routine will keep you on the cutting edge of the bold lipstick revolution. Remember, makeup is all about self-expression, so don't be afraid to experiment and find the perfect bold lip that makes you feel confident and empowered.