Compact and Multi-purpose Makeup
Traveling can be a hassle, especially when it comes to packing makeup. The solution? Opt for compact and multi-purpose makeup products that save space and simplify your daily routine. These versatile items not only make packing a breeze, but also ensure you look your best while on the go.
Multi-purpose Makeup for the Win
One brand that stands out in offering travel-friendly makeup is Saie Beauty. Their chic packaging and skin-friendly formulas make them a popular choice among travelers. For instance, Saie's Glowy Super Gel Illuminating Primer doubles as a primer and highlighter, giving your skin a radiant finish without feeling oily.
Another great option is Saie's Slip Tint Dewy Tinted Moisturizer. This lightweight product provides coverage with a dewy sheen, perfect for achieving a natural look. Don't forget about their Hydrabeam Sheer Brightening Under Eye Concealer, which perks up tired eyes and keeps you looking fresh throughout your journey.
Embrace the Skin-first Approach
A skin-first approach to makeup is becoming increasingly popular, as it complements a skincare routine without replacing it entirely.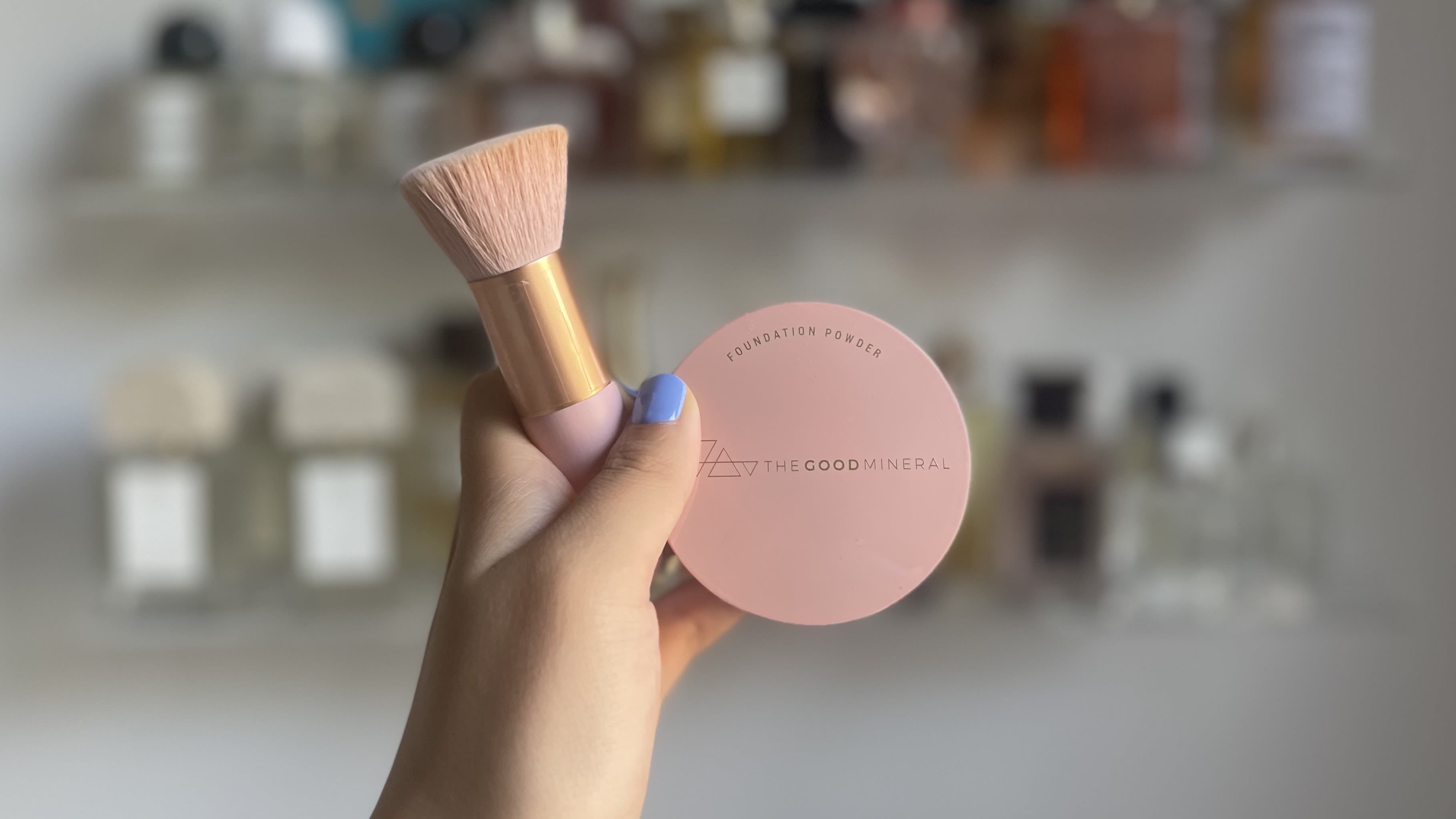 Brands like Saie Beauty incorporate nourishing ingredients into their products, ensuring your skin stays healthy while looking fabulous.
To fake a summer glow during winter, use makeup products that offer a dewy finish and emphasize the eyebrows. This can be achieved with Saie's Glowy Super Skin Foundation, which has a serum-like texture for easy application.
Stay Organized with Travel Makeup Bags
A functional makeup bag is essential for keeping your compact makeup products organized and secure during travel. The Jourmon Travel Makeup Bag is a budget-friendly option available on Amazon for under $20. Other excellent choices include the BAGSMART Toiletry Bag Hanging Travel Makeup Organizer and the Pocmimut Cosmetic Bag for Women.
In conclusion, compact and multi-purpose makeup products are a traveler's best friend. They save space, simplify your routine, and ensure you look stunning no matter where your journey takes you.
Travel-Sized Skincare Essentials
Travel-sized skincare products are a must-have for those constantly on the go. These mini-sized essentials deliver powerful results and nourish the skin without compromising on effectiveness. Perfect for vacations, business trips, gym visits, and busy lifestyles, these products comply with airline security regulations, ensuring volumes less than 100ml.
Don't Forget the Sunscreen
A crucial part of any skincare routine is sunscreen. Travel-sized SPFs are TSA-approved for easy carry-on suitcase use. Brands like Korres offer a 5-Piece Discovery Collection of travel-sized skincare products for morning and nighttime routines. The collection includes a Greek yogurt foaming cream cleanser, Santorini Grape Velvet Skin Drink replenishing gel moisturizer, Santorini Grape Poreless Skin Cream with salicylic acid, Black Pine 3D Eye Serum focusing on fine lines, wrinkles and elasticity, and Wild Rose Night-Brightening Sleeping Facial, an overnight vitamin C treatment. These products help to give the complexion a divine glow worthy of legends.
Drunk Elephant's Travel Set
Another great option is the Drunk Elephant The Littles Skincare Travel Set, a pack containing six of the brand's most popular products in travel sizes. These vegan products are designed to smooth out skin texture and visibly brighten the look of the skin.
Lancome's Triple Serum
For a luxurious touch, try Tweezerman's Slant Tweezer, Classic Eyelash Curler, and Folding EyeLash Comb are versatile and can be used for various purposes in addition to their primary beauty function during travel.
Travel-sized skincare products are highly beneficial for people who love to travel or have a busy life. They provide the same powerful results as full-sized products without compromising their effectiveness. These products can be used to maintain a consistent skincare routine while on the go, helping to improve the appearance and health of skin during travel. Skincare brands continue to innovate and offer new products in smaller sizes for convenience and ease of travel.
Solid and Leak-Proof Toiletries
Traveling can be a hassle, especially when it comes to packing toiletries. Solid and leak-proof toiletries are the perfect solution for a stress-free trip. These products not only save space in your luggage but also comply with airport liquid restrictions. Say goodbye to spills and leaks with these travel-friendly options.
Why Choose Solid Toiletries?
Solid toiletries, such as shampoo bars and toothpaste tablets, are eco-friendly alternatives to liquid products that often come packaged in single-use plastic. Brands like Lush and Ethique offer a range of solid toiletry options, including shampoo bars, conditioner bars, and body wash bars, that are free from plastic packaging and friendly to both the environment and sensitive skin.
These compact products also help reduce the amount of space and weight taken up by carry-on toiletries, making them even more convenient for travel. In addition to shampoo and toothpaste, other solid toiletries like facial cleanser, deodorant, and even sunscreen are available in solid form, making it easier to pack a complete toiletry kit without exceeding liquid carry-on restrictions.
Leak-Proof Containers for a Mess-Free Trip
Leak-proof toiletry containers come in a variety of designs and materials, including silicone, plastic, and metal, and can help prevent messy spills in luggage. These containers are perfect for decanting your regular toiletries into smaller, travel-friendly sizes, as recommended by Which?.
For added protection against spills and leaks, consider investing in a leak-proof toiletry bag made with durable, water-resistant materials like silicone or PVC. These bags are becoming more widely available, offering travelers an added layer of protection.
Future of Travel Toiletries
The market for travel-sized toiletries has grown significantly in recent years, with more consumers preferring to carry their own products rather than rely on hotel or airline offerings. The UK government has set a June 2024 deadline for most UK airports to scrap the 100ml liquid limit by introducing high-tech scanners, making travel with liquids even more convenient in the future.
In conclusion, solid and leak-proof toiletries are not only convenient for travel but also eco-friendly, helping to reduce plastic waste. With a variety of products available and advancements in airport security, packing toiletries for your next trip will be a breeze.
Eco-Friendly and Reusable Beauty Tools
Eco-friendly and reusable beauty tools are not only perfect for travel but also contribute to a more sustainable future. By choosing products that prioritize sustainable packaging materials, such as recycled paper, glass, or compostable materials, you can reduce your carbon footprint and protect the environment.
Switch to Natural Skincare and Clean Cosmetics
Opt for natural skincare products that use organic and plant-based ingredients to eliminate harmful chemicals. Clean cosmetics are free from toxic chemicals like parabens, phthalates, and sulfates, ensuring both your health and the environment are protected. Brands like Garnier are moving towards 100% sustainable sourcing for their plant-based ingredients and are committed to using only recycled and recyclable plastic.
Choose Zero-Waste Beauty Products
Minimize waste by selecting solid shampoo bars, refillable products, and reusable packaging. Refillable body lotions, for example, reduce the need for single-use plastic bottles. Many brands now offer reusable makeup remover cloths, bamboo toothbrushes, and eco-friendly makeup brush sets made from synthetic fibers or sustainable materials like bamboo.
Support Cruelty-Free and Ethical Brands
Cruelty-free beauty avoids products tested on animals, while ethical brands ensure fair treatment of employees and minimize the impact of mining and agriculture on local water supplies. Companies like EcoTools have planted over 1 million trees as part of their commitment to sustainability.
Plan Ahead for Travel
Precise planning and smart thinking are necessary for travel with eco-friendly beauty tools. Compact travel versions of your regular skincare routine and multitasking makeup items are ideal for traveling. Texture-promoting hair products like creams, sprays, and dry shampoos are essential for travel, as are facial mist, sunscreen, and body glow oil.
By choosing eco-friendly and reusable beauty tools for your travels, you can not only maintain your beauty routine but also contribute to a more sustainable and environmentally friendly world. With the global market for sustainable cosmetics expected to reach $22.8 billion by 2025, it's clear that eco-friendly beauty is here to stay.
Travel-Friendly Hair Care Products
Travel-friendly hair care products are a game-changer for those always on the go. With the growing demand from millennials and busy individuals, compact and travel-sized hair care products are becoming increasingly popular. These products include shampoo, dry shampoo, hair color, conditioner, hair styling products, hair oil, and more. In fact, hair color is projected to have the highest revenue share in 2022 due to its popularity and fashion trends.
Convenience and Portability
Frequent travelers and those with hectic lifestyles prefer compact and travel-sized hair care products for their convenience and portability. These products are perfect for maintaining healthy hair while on the go. For instance, travel-sized hair care products found at Sephora and Ulta allow users to stick to their favorite brands while traveling.
Online Shopping and Men's Hair Care
Online channels are driving the highest revenue share in the market due to the convenience and availability of multiple brands.
Men's hair care products are also experiencing significant growth as male consumers become more conscious of their appearances.
Packing Tips and Storage Solutions
When traveling, it's essential to pack hair care products based on the destination's climate. Dual voltage hair dryers and converters are crucial for travelers. Additionally, packing hair tools carefully in heat-proof, cushioned cases can prevent electrical damage. Companies like Bagsmart offer cost-effective and sturdy toiletry bag organizers to keep clutter contained while traveling.
Unique and Eco-Friendly Options
Some interesting facts about travel-friendly hair care products include eco-friendly and unique packaging options. These products are also suitable for gym-goers and those wanting to conserve space. However, counterfeit products negatively impact the market by pricing their products significantly lower than genuine market products.
In summary, compact and travel-sized hair care products are the perfect solution for maintaining healthy hair while traveling. With the growing demand and various options available, these products are becoming essential for busy individuals and frequent travelers.