Queen Sugar Studio: A Unique Hair Removal Experience
Welcome to Queen Sugar Studio, a one-of-a-kind hair removal experience in Charlotte, NC. Founded by Khiana Morton, this black-owned and operated studio is on a mission to celebrate the beauty of all women and empower both clients and employees. With a decade of experience in mental health counseling, Khiana Morton brings a unique perspective to the world of hair removal.
More Than Just Hair Removal
At Queen Sugar Studio, you'll find more than just hair removal services. The studio offers clients encouragement, motivation, and inspiration in a vibrant and sisterhood-like atmosphere. The decor is inspired by African culture, featuring bright colors and bold patterns, creating a space where clients feel comfortable and empowered.
Empowering Employees
Queen Sugar Studio is not only black-owned but also black-operated, providing opportunities for employees like Areriana Herring to grow and thrive in a supportive environment. According to Brookings.edu, just 4% of businesses in the Charlotte-Concord-Gastonia metro area are black-owned, making Queen Sugar Studio a rare gem in the community.
Wellness and Mental Health
The studio's influence extends beyond beauty; it also aims to improve clients' mental health and well-being.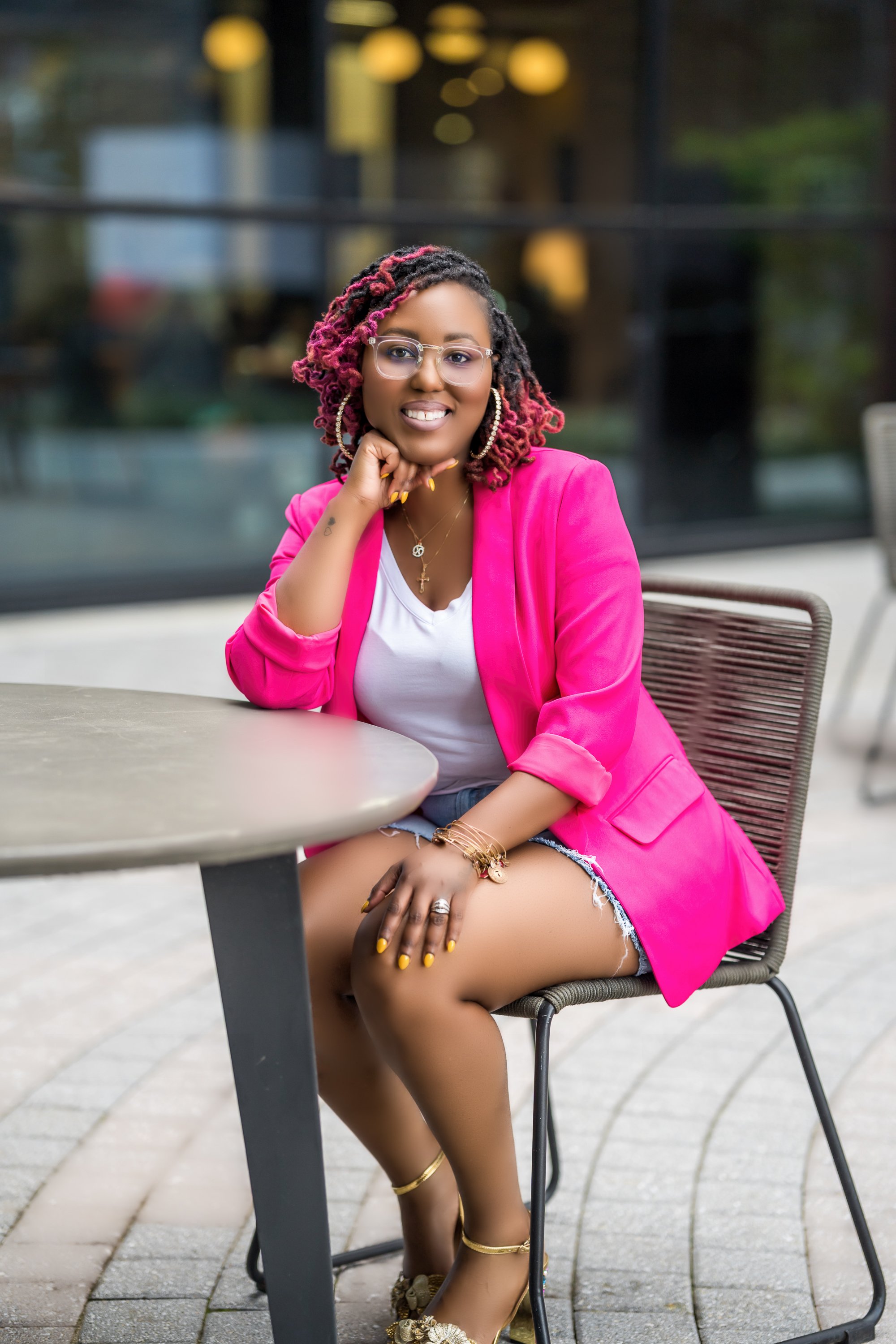 Khiana Morton's background in mental health counseling allows her to provide resources for those facing thoughts of suicide or self-harm in North and South Carolina. In addition to her work at Queen Sugar Studio, Khiana is a public speaker and mental health advocate.
Award-Winning Excellence
Khiana Morton was one of the recipients of the Life Saving Award recognition at the Iredell County EMS Awards Banquet, which honors Emergency Medical Services employees, first responders, and telecommunicators for excellence in pre-hospital care and education. This recognition speaks to Khiana's dedication to helping others and making a positive impact in her community.
Supporting the Community
As a member of the Charlotte-Mecklenburg Black Chamber of Commerce, Queen Sugar Studio supports other black-owned businesses in the community. Khiana's mission to empower women extends beyond her work at the studio; she also founded a non-profit organization called Women Elevated, which provides mentorship and support to young women.
Experience Queen Sugar Studio
If you're looking for a unique hair removal experience in Charlotte, NC, consider visiting Queen Sugar Studio. With a variety of services, including sugaring, threading, waxing, and lash extensions, you'll leave feeling beautiful and empowered. Follow their Instagram for motivational quotes and before-and-after photos of clients, and book your appointment today to experience the difference for yourself.
Laser Hair Removal: An Effective Alternative
Laser hair removal has become increasingly popular as an effective alternative to traditional hair removal methods such as waxing, shaving, and plucking. This FDA-approved treatment provides long-lasting results, making it a preferred choice for many individuals seeking a smoother, hair-free appearance.
Why Choose Laser Hair Removal?
One of the main benefits of laser hair removal is its ability to target hair follicles with precision, leading to a significant reduction in hair growth over time. Unlike waxing or shaving, which can cause skin irritation and ingrown hairs, laser hair removal is a gentler option that leaves your skin feeling smooth and soft.
Moreover, laser hair removal is a time-saving solution for those tired of the constant upkeep required by other hair removal methods. With just a few sessions, you can enjoy lasting results and say goodbye to the hassle of daily shaving or monthly waxing appointments.
What to Expect During the Process
During a laser hair removal session, a trained professional will use a handheld device to emit pulses of light that target the pigment in hair follicles. This light energy is absorbed by the hair and converted into heat, which damages the follicle and inhibits future hair growth.
The number of sessions required varies depending on factors such as hair color, skin tone, and the area being treated. Generally, most people require 4-6 sessions spaced 4-6 weeks apart to achieve optimal results. It's essential to follow your provider's recommendations for the best outcome.
While the cost of laser hair removal can be higher than other methods, the long-term benefits often outweigh the initial investment. To find a reputable provider in your area, consider visiting Remington, two major players in the laser hair removal market.
Choosing the Right Provider
When considering laser hair removal, it's crucial to choose a licensed and experienced professional. This ensures that you receive safe and effective treatment, minimizing the risk of side effects or complications. In Charlotte, NC, Queen Sugar Studio is a reputable option for those seeking expert laser hair removal services.
It's important to note that some people may experience temporary redness, swelling, or discomfort after laser hair removal. However, these side effects usually subside within a few hours and can be managed with over-the-counter pain relievers or ice packs.
Embrace the Benefits of Laser Hair Removal
In summary, laser hair removal offers a convenient and effective solution for those seeking long-lasting hair reduction. By choosing a reputable provider and following their guidance, you can enjoy smoother, hair-free skin and the confidence that comes with it. Say goodbye to the hassles of traditional hair removal methods and embrace the benefits of laser hair removal today.
The Laser Hair Removal Process
Laser hair removal is an increasingly popular treatment that offers a long-lasting solution to unwanted hair. This FDA-approved method provides a more effective alternative to waxing and other traditional hair removal techniques. In this section, we'll delve into the process of laser hair removal, including the number of sessions required, the cost of treatments, and the importance of choosing a reputable provider.
How Does Laser Hair Removal Work?
The procedure involves using a laser that focuses on pigment cells in the hair follicle, targeting melanin in the hair to burn the follicle and root. This method is suitable for most skin and hair types but works best on thick, dark hair and light skin. It's important to note that laser hair removal is not permanent on the face, and skin tone and hair color should be considered before undergoing treatment.
Number of Sessions and Cost
Achieving permanent hair reduction with laser hair removal typically takes 3-7 sessions, depending on the hair density on the body. The cost of laser hair removal ranges from $4.3-$153.3 per session, depending on the area treated. Keep in mind that the number of sessions required depends on the individual's hair growth cycle, but generally, three to four treatments are necessary for long-lasting results.
Choosing a Reputable Provider
Selecting a reputable provider is crucial to avoid complications from the procedure.
One such provider is Queen Sugar Studio in Charlotte, NC, which specializes in laser hair removal and offers a unique hair removal experience. The studio's owner, Khiana Morton, is dedicated to celebrating women's beauty and empowering clients and employees.
Preparing for Laser Hair Removal
Proper preparation is essential for the best results. This includes shaving before the appointment and avoiding sun exposure. Pain can be managed with the use of topical numbing agents, and some at-home devices even come with cooling technology to soothe discomfort during treatment.
At-Home Laser Hair Removal Devices
While professional laser hair removal is the only safe option for all skin tones, at-home laser hair removal devices have come a long way. They are now available in dozens of varieties to meet any budget and pain threshold. However, it's important to remember that at-home devices are less effective and can be dangerous due to user error.
In conclusion, laser hair removal is an excellent alternative to traditional hair removal methods, offering long-lasting results and a more comfortable experience. By choosing a reputable provider like Queen Sugar Studio and following proper preparation guidelines, you can enjoy the benefits of this innovative treatment.
Laser Hair Removal for Darker Skin Tones
Laser hair removal is a popular and effective method for long-lasting hair reduction. However, people with darker skin tones or light hair may face challenges when seeking this treatment. The good news is that Queen Sugar Studio in Charlotte, NC, specializes in providing laser hair removal services for clients with darker skin tones.
Understanding the Challenges
Darker skin tones have more melanin, which can increase the risk of scarring and burns during laser hair removal. The laser's energy can be absorbed by the skin's pigment, leading to unwanted side effects. On the other hand, light hair may not respond well to laser treatments because the laser cannot register the light pigment.
Choosing the Right Provider
It is crucial to select a reputable provider with experience in treating clients with darker skin tones or light hair. Queen Sugar Studio is a black-owned and operated hair removal business that understands the unique needs of clients with diverse skin types. They use the appropriate laser machines and settings to ensure safe and effective treatments. You can learn more about their services on their
theinnerfitnessproject.com/">here

.
Enhancing Scalp Health and Hair Growth
In addition to their wellness services, Queen Sugar Studio can also promote scalp health and hair growth. Essential oils, when diluted with carrier oils, can provide scalp health benefits and stimulate hair growth. By incorporating these natural remedies into their services, Queen Sugar Studio ensures clients receive a comprehensive approach to beauty and wellness.
Book Your Appointment Today
Experience the unique blend of hair removal and wellness services at Queen Sugar Studio by booking an appointment online through their website. Treat yourself to a relaxing and empowering experience that will leave you feeling refreshed, confident, and ready to face the world.
Incorporating wellness practices into your hair removal experience can make a significant difference in your overall well-being. By choosing Queen Sugar Studio, you're not only investing in effective hair removal services but also in a holistic approach to self-care and empowerment. Give yourself the gift of beauty and balance by visiting Queen Sugar Studio today.