Top Korean Hair Salon Chains
Discover the top Korean hair salon chains that cater to both locals and foreigners, offering exceptional services and trendy hairstyles. Juno Hair, Lucy Hair, and The Day's Hair are renowned for their English-speaking staff, making them the perfect choice for those seeking a stylish haircut or color treatment.
Juno Hair: A Trendsetter in Korean Hairstyling
Juno Hair is a popular salon chain with branches all over Korea. Known for their innovative techniques and dedication to customer satisfaction, they have become a go-to destination for those seeking the latest Korean hair trends. Visit their website here to find a location near you and explore their wide range of services.
Lucy Hair: A Fusion of Style and Comfort
Lucy Hair offers a unique blend of modern hairstyling and a cozy atmosphere, making it the perfect place to unwind while getting a fresh new look. Their skilled stylists are well-versed in the latest hair trends and are committed to providing top-notch service. Check out their website here to explore their services and find a location near you.
When searching for the perfect Korean hair salon, it's essential to rely on recommendations from locals and online reviews. These sources provide valuable insights into the quality of service, pricing, and overall experience at each salon. Don't be afraid to ask friends or colleagues for their favorite spots, as they may have discovered hidden gems that cater to your specific needs and preferences.
Remember, the key to finding the best Korean hair salon is to do your research and keep an open mind. With so many talented stylists and innovative techniques available, you're sure to find the perfect salon that will leave you feeling fabulous and confident in your new look. Happy hairstyling!
Finding the Perfect Salon
Finding the perfect Korean hair salon for your budget and preferences can be a game-changer in achieving the hairstyle of your dreams. The key to discovering the best salon lies in gathering recommendations from locals and reading online reviews. This process will help you make an informed decision and ensure a satisfying salon experience.
Ask Around for Recommendations
Start by asking friends, family, colleagues, or even strangers who have had positive experiences at Korean hair salons. People love to share their favorite spots, and you might be surprised at the hidden gems they recommend. Don't be shy to approach someone with a fabulous hairstyle and ask where they got it done. Chances are, they'll be flattered and more than happy to share their salon secrets.
Read Online Reviews
Online reviews can be a goldmine of information when it comes to finding the ideal Korean hair salon. Platforms like Yelp, Google, and K-beauty Now, which offers a directory of salons across the United States. Another option is to join online communities or forums dedicated to Korean beauty and ask for salon recommendations from fellow members.
In the end, finding the perfect Korean hair salon near you is all about doing your research and being open to recommendations. By following these tips, you'll be well on your way to discovering a salon that will leave you feeling fabulous and confident in your new hairstyle.
Personal Experience at a Korean Hair Salon
A Memorable Korean Hair Salon Experience
During my study abroad program at Yonsei University in Seoul, I decided to try out the trendsetting hairstyles popular in South Korea. As a third-year student from Singapore, I was eager to explore the local beauty scene. After some difficulty in finding the right salon and hairstyle, I finally discovered a salon within the university grounds that catered to my preferences.
Navigating the Language Barrier
Initially, I was nervous about potential miscommunications with the salon staff. However, I was pleasantly surprised by their excellent communication skills. South Korea is known for its high standards and detail-oriented hair stylists. Many salons in Seoul, like the one I visited, have English-speaking staff to bridge language barriers.
Choosing the Perfect Hairstyle
The salon team showed me a range of hair dye colors and helped me choose the perfect style. I opted for peekaboo highlights, a hair trend where only the inner layer is dyed. This creates a vibrant color "peeking" through the darker outer layer. The result was stunning and lasted for two to three months, leaving me thoroughly satisfied with the outcome.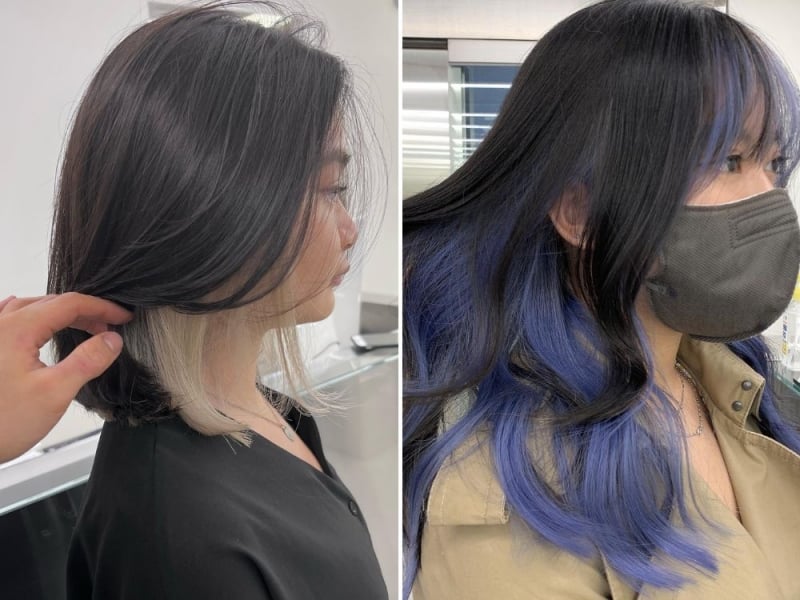 Impressive Techniques and Service
Throughout the process, I was impressed with the team's hair cutting and dyeing techniques. They were precise and thorough, ensuring my satisfaction with the final look. The salon's attention to detail and commitment to customer satisfaction truly made my experience memorable.
Advice for Your Korean Hair Salon Visit
When visiting a Korean hair salon, it's essential to rely on recommendations from locals and online reviews. This will help you find the best salon for your budget and preferences. Also, don't be afraid to ask for English-speaking staff, as many salons in Seoul cater to international customers.
If you're a student, consider looking for hair salons within universities. They often offer discounts for students, making it more affordable to try out the latest Korean hair trends.
Incorporating Korean Beauty into Your Lifestyle
South Korea is known for its cosmetics and fashion trends. Many travelers recommend visiting a salon in Seoul to get their hair done during a trip. Embracing the Korean lifestyle and incorporating it into your beauty routine can be a fun and exciting way to experience the country's culture.
Final Thoughts
My salon experience at Yonsei University was truly unforgettable. The communication process was seamless, and the hair dyeing technique was top-notch. If you're planning a trip to South Korea, don't miss out on the opportunity to visit a local hair salon and try out the latest trends. You'll leave feeling refreshed, confident, and ready to take on the world!
Affordable Hair Care Products
Finding affordable hair care products that deliver salon-quality results can be a challenge. However, Amazon offers a range of top-rated hair care products under $35, making it easier for you to maintain your gorgeous locks without breaking the bank. One such product is the hair finishing stick, perfect for creating sleek buns and ponytails with ease.
Keep Your Hair Clean and Healthy
A crucial step in maintaining healthy hair is using a gentle clarifying shampoo. This type of shampoo cleanses your hair and scalp without causing any damage. A great option to consider is the Neutrogena Anti-Residue Clarifying Shampoo, which effectively removes buildup while being gentle on your hair.
Manage Oily Hair with Dry Shampoo
If you struggle with oily hair, a powder-based dry shampoo can be a lifesaver. It helps you extend the time between washes and keeps your hair looking fresh. The Dove Refresh+Care Dry Shampoo is a popular choice that absorbs oil and adds volume to your hair.
Detoxify Your Scalp for Longer-lasting Freshness
A detoxifying scalp scrub can help keep your hair oil-free for a longer period. The OGX Renewing + Argan Oil of Morocco Penetrating Hair Oil is a fantastic choice that nourishes and strengthens your hair without weighing it down.
Save on Prime Day Deals
Don't miss out on Amazon's early Prime Day deals for hair care products, including keratin hair treatments. These deals offer a great opportunity to stock up on your favorite products at discounted prices.
Effortless Heat-free Curls
Twist rods are another popular product that can create heat-free curls and work well for all hair types. The Tifara Beauty Flexible Curling Rods are easy to use and help you achieve salon-worthy curls without damaging your hair.
Remember, maintaining beautiful hair doesn't have to be expensive. With these affordable hair care products, you can achieve salon-quality results at home. So, go ahead and give your hair the care it deserves without breaking the bank.