Bold Prints and Patterns
2023 is set to be a vibrant year for beachwear, with bold prints and patterns taking center stage. One of the standout trends is '80s-style color blocking, which adds a retro touch to modern swimwear designs. Statement ruffles and thongs are also making waves, offering a fresh take on classic beach attire.
Popular prints for the upcoming season include rosettes, fave foods, shabby chic, metallic and chrome, Barbiecore, and travel-inspired patterns. These eye-catching designs allow beachgoers to showcase their unique personalities and make a splash in the fashion world. Brands like Blackbough Swim, Londre Bodywear, 6 Degrees Swim, and perfect time to explore these exciting new trends. Frankies Bikinis, a popular swimwear brand, is currently offering a sale on all their swimsuits, rompers, and matching sets. Top picks for bikinis include the Tia triangle and Arabelle bralette, while the Pamela and Lila provide chic one-piece options.
Statement swimwear is also on the rise, with wild animal prints, striking monograms, unique silhouettes, fresh new hues, bold prints, and cheeky cutouts dominating the scene. These daring designs allow fashion enthusiasts to express their individuality and confidence, making a lasting impression on the beach.
In summary, 2023 beachwear trends are all about bold prints, patterns, and statement-making designs. With a focus on individuality and self-expression, these trends offer an opportunity for beachgoers to showcase their personal style and make a splash in the fashion world. So, dive into the world of vibrant patterns and daring silhouettes, and embrace the exciting new trends that 2023 has to offer.
Sustainable and Eco-friendly Materials
As we step into 2023, sustainable and eco-friendly materials are taking center stage in the beachwear industry. Brands are focusing on reducing their environmental impact by using materials such as recycled fabrics, organic cotton, and bio-based materials. This shift is not only beneficial for the planet but also for the people involved in manufacturing through ethical production practices.
New textile production technologies are making it possible for brands to create stylish and functional swimwear using sustainable materials. Consumers are becoming more conscious of their purchasing choices, seeking out brands that prioritize sustainability and ethical practices. Some of the best sustainable swimwear brands include TET. Responsible Wear, Miss Janna's, Organic Basics, LOVJOI, and KindKinis.
Traditional synthetic materials like nylon and polyester, commonly used in beachwear, can take hundreds of years to degrade in landfills and are made from non-renewable resources. By opting for organic cotton and other natural fibers, beachwear brands can reduce the use of harmful pesticides and fertilizers. Recycled fabrics made from plastic bottles and other waste materials help reduce waste in landfills and oceans.
Innovative Materials and Production Methods
Brands are also exploring innovative materials such as algae in their designs. Eco-friendly production methods, like natural plant-based dyes and water usage minimization, are becoming more common. PETA recognizes sustainable swimwear brands like INASKA, essentials for zula, and Lauren Layne Swim for their commitment to sustainability and animal welfare.
The textile industry is one of the most polluting industries in the world, making sustainable fashion a crucial movement for a better future. Sustainable fashion and awareness campaigns aim to combat plastic pollution, fast fashion, and promote fashion sustainability. To further contribute to the cause, you can handwash your swimwear in cold water, reducing the amount of microplastics released into the ocean.
By embracing sustainable and eco-friendly materials in beachwear, we can enjoy stylish and functional swimwear while contributing to a more circular fashion industry where materials are reused and recycled. This 2023 beachwear trend is a step towards a cleaner and greener future for our planet.
High-waisted Bikinis and One-pieces
High-waisted bikinis and one-piece swimsuits are making waves in 2023, becoming a favorite among fashion enthusiasts. These styles offer versatility and flatter various body types, making them a popular choice for beachgoers.
Flattering and Comfortable
Tummy control swimsuits are highly recommended for a more flattering and comfortable fit. Brands like Eomenie, Cupshe, Tempt Me, Spanx, Miraclesuit, and Lands' End offer stylish options for those seeking tummy control swimwear.
Options for Larger Busts
For those with larger busts, swimsuits from brands like Hilor and American Trends provide excellent support and style. Expert-recommended products ensure a comfortable and fashionable beach experience.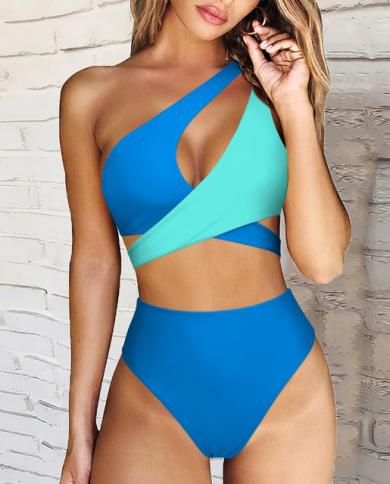 Chlorine-Resistant and Stylish
Lands' End offers chlorine-resistant, tummy-controlling one-piece swimsuits for those who frequent pools. Meanwhile, Summersalt's Perfect Wrap One-Piece features a secret wrap detailing that doubles as a tummy control add-on.
Affordable and Secure
SHEIN's High-Waist Takini Set is budget-friendly and provides a secure fit for both the top and bottoms. Cupsh's Metallic Striped Bralette & High Waist Bikini Set offers full coverage for the lower tummy with a crossover design and thick straps and band.
Vintage-Inspired Collections
Retro Stage has launched a vintage-inspired summer collection of bikinis and one-piece swimsuits, appealing to those who seek nostalgia for past eras. Long-sleeved swimsuits are also emerging as a trend, offering a unique and fashionable option for beachwear.
Exciting Sales and Inclusive Sizing
Frankies Bikinis is currently offering 25% off all swimsuits, including collections from Sydney Sweeney and Pamela Anderson. Target provides budget-friendly swimwear with a wide variety of designs and inclusive sizes, ranging from 0-18.
These high-waisted bikinis and one-piece swimsuits are perfect for making a fashion statement beyond the beach or pool. With a variety of options available, everyone can find a style that suits their taste and body type.
Gender-neutral and Inclusive Sizing
In 2023, beachwear is embracing the importance of gender-neutral and inclusive sizing, ensuring that everyone can feel comfortable and confident in their swimwear. This trend is a crucial aspect of inclusivity and body positivity in the fashion industry, as it caters to diverse body types and gender expressions.
Target's Pride Collection
For instance, Target has released a Pride collection that includes gender-neutral and inclusive swimwear. The adult swimwear in this collection is labeled "tuck-friendly" and comes in general adult sizing, starting from adult XS. Although these designs are not available in kids' sizes, the move towards inclusive sizing is a significant step forward in the beachwear industry.
Expanding Size Ranges
Many companies are expanding their size ranges to cater to diverse body types and gender expressions. Brands like Amazon, Summersalt, Monday Swimwear offer budget-friendly and inclusive swimwear options. Plus-size women also have a plethora of options to choose from, with swimwear that celebrates and accentuates their curves.
Mindful Design Features
Swimwear brands are incorporating mindful and thoughtful design features to make their clothing accessible and comfortable for all. High-quality materials ensure a comfortable fit that lasts longer, while diverse representation in advertising and marketing campaigns promotes inclusivity.
Sustainable and Ethical Choices
Sustainable fashion is also transforming beachwear, with more brands adopting eco-friendly materials and production methods. PETA highlights "PETA-Approved Vegan" swimwear companies for their commitment to animal-friendly fashion, offering different sizes and shapes.
Virtual Try-Ons and Fit Technology
The pandemic has given rise to virtual try-ons and fit technology, making shopping for swimwear easier and more efficient. This innovation is particularly helpful for those seeking gender-neutral and inclusive sizing, as it allows customers to find the perfect fit without the stress of in-store shopping.
Embracing diverse sizes and shapes in swimwear is essential for a more equitable and inclusive society. This trend not only promotes acceptance and love for various body types but also encourages companies to minimize waste and environmental impact throughout production processes. With gender-neutral and inclusive sizing becoming increasingly important in 2023 and beyond, the beachwear industry is set to become more accessible and welcoming for all.
Accessorizing Beachwear
Accessorizing your beachwear is essential for elevating your summer style in 2023. With the launch of Retro Stage's new summer collection, you can easily create a chic, vintage-inspired look by pairing their vibrant swimwear with matching swimming caps and sunglasses. Retro Stage offers a variety of accessories that complement their beachwear, taking inspiration from classic styles of the 1930s to the 1960s.
Must-have Accessories for 2023
For a tropical island vacation, consider adding wooden and lacquered bangles and raffia hats to your ensemble. These trendy and practical accessories are perfect for a stylish getaway. If you're heading to a Mediterranean destination, an oversized organza version of a white shirt can serve as a great cover-up.
Investing in versatile items like a designer tote bag or a collectible watch is a smart choice, as they can be used beyond the beach season. Handbag trends for summer 2023 include canvas, straw, or raffia bags that are suitable for errands around town or dinner at a sidewalk café.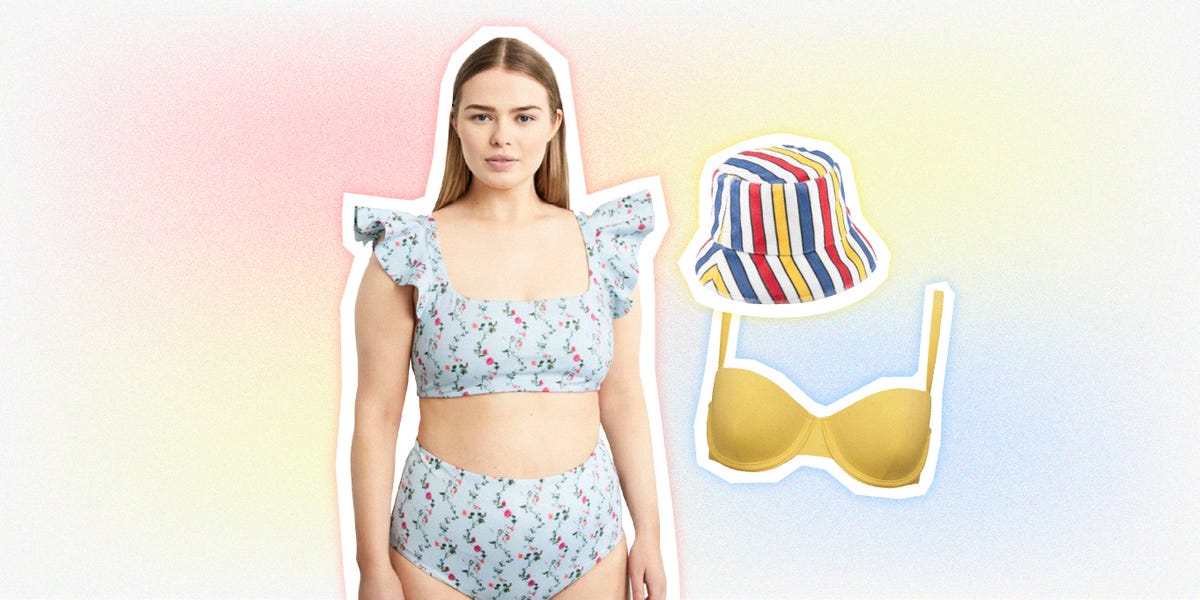 Purchases of oversized bags have increased by 87% after the debut of Succession's "ludicrously capacious" Burberry tote.
Textured fabrications like raffia and crochet remain popular for warm weather. This season, styles have expanded to include even more variability, such as netting, padding, and retro-style embossing. Vintage-esque bags with sequins, beads, or nostalgic embroidery are also having a moment, harking back to the '90s and early aughts.
Complete Your Look with Chic Accessories
Don't forget to add some sparkle to your beach attire with recommended accessories like Chanel Mini Macramé handbags, Hermès wooden bangles, and Swarovski pendant necklaces. A waterproof digital camera and colorful striped towels from Dusen Dusen can help capture memories of an all-American beach trip.
In summary, accessorizing your beachwear in 2023 is all about embracing vintage-inspired styles, investing in versatile items, and adding a touch of sparkle to your ensemble. With the right accessories, you can create a chic and stylish look that will make a statement on any beach vacation.