Understanding Hair Length Chart Categories
The Hair Length Chart is a useful tool for understanding the different categories of hair length and finding the perfect style for you. This chart categorizes hair into three main groups: short, medium, and long. Let's dive into each category and explore their measurements, suitable styles, and tips for choosing the right haircut.
Short Hair: Bold and Chic
Short hair is typically less than 2.25 inches in length and reaches up to the ear lobes or less. This category includes styles like pixie cuts, buzz cuts, and short bobs. Short hair is perfect for those with jawlines measuring less than 2.25 inches, as it accentuates their facial features. If you're looking for a low-maintenance and chic look, short hair might be the perfect choice for you. Check out this hair length chart for more inspiration.
Medium Hair: Versatile and Stylish
Medium hair falls between the ear lobes and the collarbone, usually measuring between 2.25 to 4 inches in length. This category offers a wide range of styles, such as layered bobs, soft bangs, and shoulder-length shags. Medium hair is ideal for those who want a balance between style and manageability.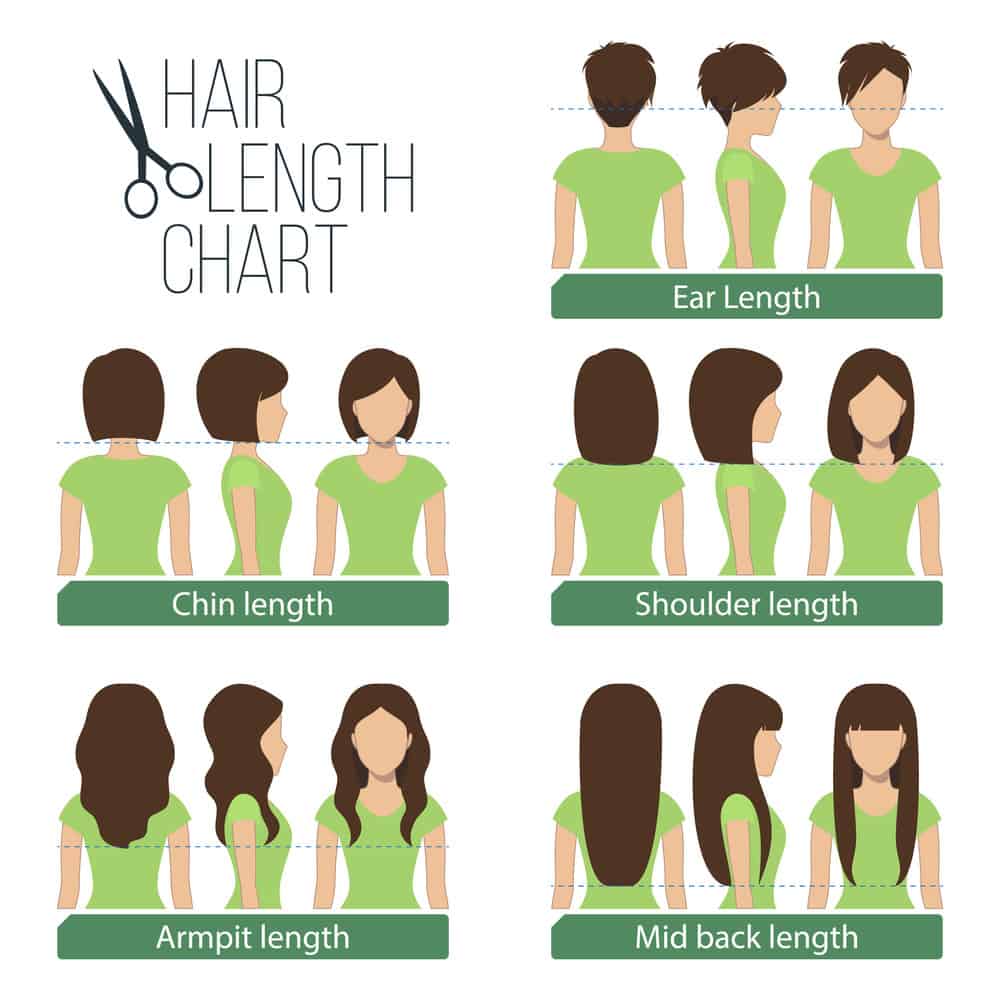 It's also great for experimenting with different looks, as it can be easily styled in various ways, from sleek and straight to voluminous curls.
Long Hair: Elegant and Glamorous
Long hair is generally more than 4 inches in length and goes beyond the collarbone. This category includes styles like long layers, beach waves, and mermaid locks. Long hair can be a statement of elegance and glamour, but it requires more care and maintenance than shorter styles. If you're ready to commit to the extra effort, long hair can provide endless styling possibilities and a stunning look.
Choosing the Right Hair Length
When selecting the perfect hair length, consider your face shape, lifestyle, and personal preferences. Different face shapes require different cuts and layers, so it's essential to consult with a professional hairstylist to find the best style for you. You can also visit a hair salon near you for expert advice and personalized recommendations.
Additionally, think about your daily routine and how much time you're willing to spend on hair care and styling. Shorter styles tend to be more low-maintenance, while longer hair requires more attention and effort.
In conclusion, the Hair Length Chart is an excellent guide for understanding the various hair length categories and finding the perfect style for you. By considering your face shape, lifestyle, and personal preferences, you can choose a haircut that not only looks great but also suits your unique needs. So, go ahead and explore the world of hair lengths and find the perfect style that makes you feel confident and beautiful.
Hairstyles for Women Over 50
As women over 50, finding the perfect hairstyle can be a game-changer in terms of confidence and style. Embrace your age and let your hair reflect your personality with these popular and recommended haircuts.
Shaggy Haircuts: The Modern Classic
Shaggy haircuts have made a comeback and are increasingly popular among women over 50. These versatile cuts work well with any hair type and texture, bringing out your natural texture for a modern, chic look. Shags are highly customizable, suiting any face shape, and can add volume and dimension to fine hair, making it appear fuller. SheFinds offers advice from professional hair stylists on how to rock a shaggy haircut at any age.
Long Layered Haircuts: Timeless Elegance
Long layered haircuts are another excellent option for mature women. These cuts add movement, texture, and layers to your hair, giving it a youthful and appealing look. Regular trimming, every 4-6 weeks, helps maintain hair health and keeps your layers looking fresh. Don't be afraid to experiment with color and glossing treatments to address hair thinning and dullness, common issues for women over 50.
Pixie Cuts: Bold and Effortless
Pixie cuts with layers draw attention to your face and are an effortless choice for women over 50. These short, chic cuts are easy to maintain and can be styled in various ways to suit your personal taste. Mamamia features expert advice on how to choose the right pixie cut for your face shape and lifestyle.
Choosing the Right Hairstyle for You
Finding a stylist who understands your hair type, texture, and lifestyle needs is crucial in selecting the perfect haircut. Regular trims and a proper hair care routine will maintain the shape and texture of your chosen style. Remember, personal style should be encouraged, and you should feel free to experiment with different cuts and colors.
Ultimately, a good haircut can boost a woman's confidence and make her feel empowered. Whether you opt for a shaggy haircut, long layered style, or a bold pixie cut, embrace your age and let your hair be a reflection of your unique personality.
Perimenopause and Hair Changes
Perimenopause is a stage in a woman's life that marks the transition to menopause. During this time, hormonal changes can lead to various hair changes, including thinning, dryness, and alterations in texture and color. It's essential to understand these changes and learn how to manage them to maintain healthy hair and overall well-being.
Understanding Hair Changes During Perimenopause
Dr. Sonia Davison, an expert in women's health, has explored the impact of perimenopause on hair. She found that hormonal fluctuations can affect the hair growth cycle, resulting in thinning and dryness. To learn more about her insights, check out her article on Mamamia.
Resources for Perimenopausal Women
The Very Peri audio series on Mamamia is an excellent resource for women experiencing perimenopause. It covers a wide range of topics, including hair changes, hot flashes, sleep issues, and mental health. Listen to the Very Peri audio series for practical solutions and support during this challenging time.
Embracing Personal Style at Any Age
Age-appropriate hairstyles are an outdated concept. Instead, women should be encouraged to embrace their personal style, regardless of age.
Experiment with different haircuts and colors that make you feel confident and beautiful.
Self-Care Tips for Perimenopausal Women
Prioritize self-care during perimenopause by eating a healthy diet, exercising regularly, and managing stress. These habits can help maintain healthy hair and overall well-being. Additionally, consider incorporating phytoestrogens, found in foods like soy products, nuts, and seeds, into your diet. Consuming an average of 50 mg daily can provide health benefits.
Supplements and Hormone Replacement Therapy
Ensure you're getting enough vitamins and minerals, such as boron, vitamin B, vitamin D, and vitamin E, to help balance estrogen levels. Natural estrogen supplements can also be beneficial, but consult your primary care physician before taking them, as they are not regulated by the U.S. FDA.
Hormone replacement therapy (HRT) is another option for relieving menopause-related symptoms. However, due to shortages and discontinuations of HRT in Australia, it's crucial to seek medical advice before switching medications and consider the impact of costs. Read Mamamia's discussion on HRT shortages for more information.
In conclusion, understanding and managing hair changes during perimenopause is essential for maintaining healthy hair and overall well-being. Embrace your personal style, prioritize self-care, and seek professional advice when necessary to navigate this challenging stage with confidence and grace.
Timeless Haircuts and Trends
Timeless haircuts have a certain charm that makes them popular despite ever-changing trends. These classic, flattering hairstyles can enhance your appearance and boost your confidence. In this section, we'll discuss some of the most enduring haircuts and how you can rock them with style.
The Glamorous Bounce
The Glamorous Bounce is a voluminous, wavy hairstyle that exudes elegance and sophistication. This timeless look can be achieved with a T3 Ceramic Long Barrel Curling and Wave Iron. Remember to use a heat protectant before styling to keep your hair healthy and shiny.
Soft Sweep
The Soft Sweep is a gentle, side-swept hairstyle that frames the face beautifully. It's versatile and suits most face shapes. To maintain this look, use a product like dpHUE Glossy Glaze to add shine and smoothness to your hair.
Face-Framing Layers
Face-Framing Layers are a great way to add dimension and movement to your hair. This hairstyle works well with various hair textures and lengths. To achieve a salon-worthy blowout at home, try using the Drybar The Half Shot Small Round Blow-Dryer Brush.
Layered Curls
Layered Curls are a timeless choice for those with naturally curly hair. This haircut adds volume and shape while reducing frizz.
To define and enhance your curls, apply Kenra Professional Curl Defining Creme to damp hair.
Chic Mid-Lengths
Chic Mid-Lengths are a versatile and low-maintenance option for women of all ages. This haircut can be styled in various ways, making it perfect for any occasion. To achieve a natural, effortless look, use Kristin Ess Hair Weightless Shine Air Dry Creme on damp hair.
Classy Lobs
The Classy Lob, or long bob, is a universally flattering haircut that has stood the test of time. It's a great option for women who want a stylish yet low-maintenance hairstyle. To keep your lob looking fresh, visit a trusted hair salon for regular trims.
In addition to these timeless haircuts, current trends like wixie haircuts, fringe hairstyles, and short haircuts are also worth considering. Fringe hairstyles, in particular, come in various styles, such as the classic fringe, choppy fringe, swept fringe, and French fringe. These trendy options can add a modern twist to your look while still maintaining a classic appeal.
When choosing a haircut, it's essential to consider factors like your face shape, hair texture, and lifestyle. A skilled hairstylist can help you select the perfect hairstyle that complements your features and suits your needs. Remember, good hair care, including a healthy diet and lifestyle, is crucial for maintaining beautiful, healthy-looking hair.
For more information on hair trends and styles, visit InStyle.
Choosing the Right Hairstyle
Choosing the perfect hairstyle can be a daunting task, but with the help of a skilled hairstylist, you can find the ideal look that complements your face shape, hair texture, and lifestyle. A great hairstyle can boost your confidence and enhance your overall appearance, so it's essential to invest time and effort in finding the right one.
Consult with a Professional Hairstylist
A good hairstylist is your best ally in selecting a hairstyle that suits you. They can recommend haircuts and styles that highlight your facial features and match your personal style. Additionally, they can suggest products and techniques to maintain and style your hair at home. To find a hairstylist who specializes in your hair type or texture, consider searching for a "korean hair salon near me" or an "african american hair salon near me" to achieve optimal results.
Stay Updated on Hair Trends and Techniques
Hairstylists are trained in the latest hair trends and techniques, ensuring that you'll always be in the know when it comes to achieving specific looks. For example, the wixie cut hairstyle is gaining popularity with various variations, such as textured winged pixie and ginger wixie with face-framing bangs. You can find more inspiration for wixie cuts