Defining Your Personal Style
Defining your personal style is the first step in creating a capsule wardrobe that reflects your unique taste and personality. To begin, spend some time reflecting on your preferences and describing your personality. Think about the colors, fabrics, and patterns that resonate with you. Draw inspiration from past travel experiences and spaces you've inhabited that align with your taste.
Incorporate your personal passions and interests into your fashion choices to make your wardrobe truly reflective of your individuality. For example, if you're an avid traveler, you might include pieces inspired by your favorite destinations. If you're a lover of art, consider incorporating artistic prints or statement pieces that showcase your favorite artists or styles.
A key aspect of defining your personal style is selecting timeless and versatile jewelry pieces. Consider investing in classic items like a simple gold or silver chain and mix-and-match rings that can be easily incorporated into various outfits. These basics can serve as the foundation for your capsule jewelry wardrobe.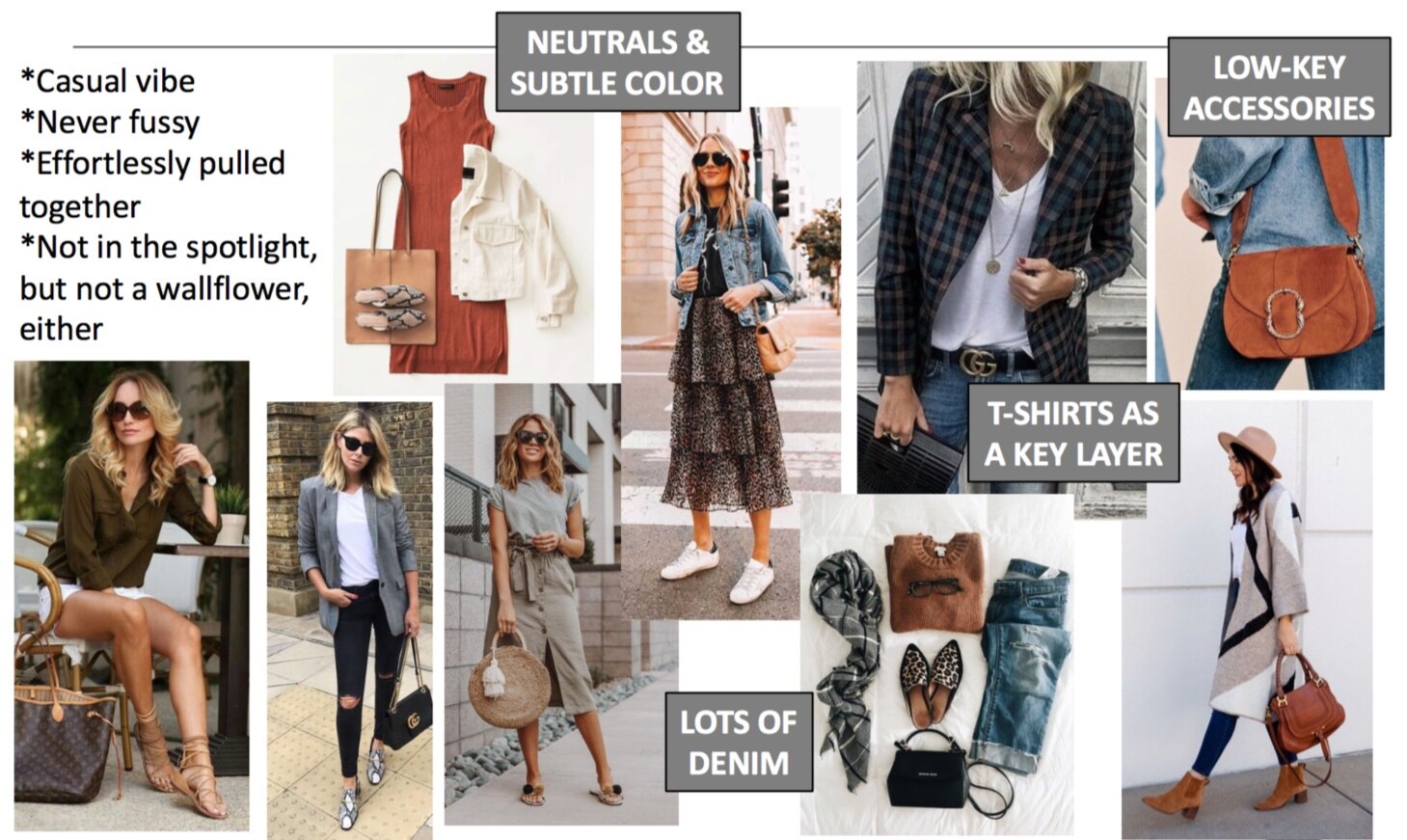 Embrace the diversity of your personal style by celebrating and empowering your unique beauty. Remember that self-care, self-acceptance, and unapologetic indulgence are crucial to appreciating and cultivating your individual sense of style. Break free from stereotypes that limit the perception of beauty and focus on nourishing both your soul and body.
Incorporate rituals and practices that make you feel beautiful, such as meditation and a strong skincare routine. Wearing clothing and accessories that you love can also contribute to feeling your best and expressing your personal style. For inspiration, check out fashion-forward brands like Melancholy, which promotes self-love, personal growth, and mental health awareness.
In summary, defining your personal style involves self-reflection, embracing your individuality, and selecting versatile and timeless pieces that resonate with your unique taste. By doing so, you'll create a capsule wardrobe that is both functional and a true reflection of who you are.
Selecting Essential Pieces
When it comes to creating a capsule wardrobe, selecting essential pieces is crucial. These versatile and timeless clothing items will serve as the foundation of your wardrobe, allowing you to mix and match them for various outfits.
Comfort and Versatility
Choose items that offer comfortable fits, lightweight materials, and versatility. This will ensure that you can wear them in different settings and for various occasions. For example, a classic white button-down shirt can be dressed up for work or dressed down for a casual weekend outing.
Neutral Colors
Opt for neutral colors such as black, white, navy, and beige, as they can be easily mixed and matched with other pieces. These colors create a cohesive look and make it easier to coordinate outfits.
Quality and Durability
Invest in high-quality and durable clothing items that flatter your body shape and reflect your personal style. This will not only make your wardrobe more sustainable but also ensure that you look and feel your best. Brands like Vestiaire Collective can save up to 90% of the environmental cost of a first-hand purchase.
Remember that creating a capsule wardrobe is an ongoing process. As you refine your personal style and discover new favorites, you can update your wardrobe with pieces that align with your aesthetic and values. By selecting essential pieces mindfully, you'll create a stylish and sustainable wardrobe that serves you well for years to come.
Color Palette and Coordination
Creating a cohesive color palette for your capsule wardrobe is essential for easy outfit creation and coordination. By selecting a harmonious mix of colors, you can effortlessly mix and match your clothing items, saving time and reducing decision fatigue.
Choosing Your Base Colors
Start by selecting a few neutral base colors, such as black, white, gray, navy, or beige. These colors will serve as the foundation of your wardrobe and can be easily paired with other colors. For example, the minimalist wardrobe of Peachy Den's new collection features a dynamic color palette of grayscale and blue, offering versatile designs for summer. Check out their collection here.
Adding Accent Colors
Next, choose a few accent colors that complement your base colors and reflect your personal style. These colors can be used to add interest and variety to your outfits.
Consider the current fashion trends, like the popular combination of pink and orange for summer fashion, as well as your own preferences when selecting accent colors.
Color Coordination Tips
To create visually appealing outfits, use the color wheel as a guide for pairing complementary colors. For example, pair warm colors like red or orange with cool colors like blue or green. Additionally, accessories such as jewelry, shoes, and bags can help tie your outfit together and create a cohesive color scheme.
Remember that color psychology plays a significant role in fashion, as different colors can evoke various emotions and send distinct messages. Stay updated on seasonal color palettes and trends to keep your wardrobe fresh and stylish.
Maintaining a Cohesive Wardrobe
As you update and maintain your capsule wardrobe, ensure that any new additions align with your chosen color palette. This will help you continue to create harmonious outfits with ease. Prioritize quality over quantity, as investing in high-quality clothing items will ensure they last longer and are worn more often.
By carefully selecting a cohesive color scheme for your capsule wardrobe, you can enjoy the benefits of easy outfit creation, versatility, and faster decision-making, ultimately simplifying your daily routine and enhancing your personal style.
Seasonal Capsule Wardrobes
Adapting your capsule wardrobe for different seasons is essential to ensure you always have the perfect outfit for any weather condition. By focusing on versatile pieces and layering, you can create a stylish and functional wardrobe that works all year round.
Choose Breathable Fabrics
Selecting the right materials is crucial when building a seasonal capsule wardrobe. Opt for light layers and breathable fabrics, such as cotton, linen, and silk, during warmer months. These natural textiles allow for better air circulation, keeping you cool and comfortable. In colder seasons, choose materials like wool and cashmere to provide warmth without sacrificing style.
Invest in Versatile Pieces
When creating a capsule wardrobe for different seasons, it's essential to focus on versatile pieces that can be worn for various occasions. For example, a knit shirt is a comfortable and adaptable option that comes in various styles and colors, making it suitable for both casual and formal events. Similarly, a checkered shirt is a classic addition to any wardrobe and can be styled for both casual and dressed-up occasions.
Layering is Key
Layering is a crucial aspect of a seasonal capsule wardrobe, allowing you to adapt your outfits to changing weather conditions.
Start with a solid foundation of good quality basics, such as neutral-colored tops and bottoms. These items can be easily mixed and matched, providing endless outfit combinations while reducing overall consumption of fast fashion items.
Accessorize Wisely
Accessories like scarves and hats can add versatility and style to your wardrobe. They not only provide additional warmth during colder months but also serve as statement pieces that can elevate any outfit. Choose accessories that complement your wardrobe's color palette for a cohesive and polished look.
Incorporating these tips into your seasonal capsule wardrobe will simplify your dressing routine and ensure you always have the perfect outfit for any weather condition. By investing in high-quality, versatile pieces and focusing on layering, you can create a stylish and functional wardrobe that lasts all year round. Additionally, embracing sustainable and eco-friendly fashion practices, such as those promoted by Save Your Wardrobe, can contribute to a more mindful and environmentally conscious lifestyle.
Maintaining and Updating Your Capsule Wardrobe
Maintaining and updating your capsule wardrobe is essential for keeping it fresh and functional. By following a few simple tips, you can ensure that your wardrobe remains stylish and versatile.
Proper Care and Storage
Taking care of your clothing is crucial for a long-lasting wardrobe. Use appropriate hangers and wash your clothes according to the care instructions. This will help preserve the quality and appearance of your garments. For more information on proper clothing care, check out Real Simple's guide.
Sustainable Fashion Practices
Incorporate sustainable fashion practices, such as buying secondhand clothing and opting for eco-friendly materials. This not only benefits the environment but also adds uniqueness to your wardrobe. For sustainable fashion options, visit