Elegant Dresses for Women
Summer weddings call for elegant and stylish dresses that make you feel confident and comfortable. With wedding season in full swing, it's time to explore various styles of wedding guest dresses perfect for attending these special occasions.
One popular option for summer nuptials is a breezy, beautiful gown designed by Zherra and Mena. These gowns are perfect for beach weddings, as they are lightweight and hold up well in the sand. The Gracelyn number, available in black and blush, offers an effortless formal look that suits any wedding setting.
For those who love to sparkle on the dance floor, the Noelle, Maren, and Elin options feature eye-catching sequins that are sure to make a statement. If you're looking for unique dresses, ZOO Label offers a curated collection of enchanting pieces that will set you apart from the crowd.
Affordability doesn't mean compromising on style. Brands like skin tone are a great option. Wrap dresses, for example, are both comfortable and adjustable for a perfect fit.
Accessories play a crucial role in completing your outfit. Tasteful statement jewelry, a stylish clutch, and comfortable yet chic footwear can elevate your look. For beach weddings, sandals or espadrilles are recommended to navigate the sand with ease.
Remember to be mindful of the environment when shopping for wedding guest dresses. Choose versatile outfits that can be worn again and accessorized differently for future events. This way, you can look fabulous while making sustainable fashion choices.
In summary, finding the perfect dress for a wedding doesn't have to be a daunting task. With a variety of styles, brands, and price points available, you can be the best-dressed guest at any summer wedding.
Dapper Suits for Men
When it comes to attending a wedding, men have a variety of suit styles and colors to choose from. A well-fitted suit is essential for looking polished and stylish. In this section, we will discuss different suit options and how to make the perfect choice for any wedding.
Classic Suit Colors and Styles
Navy and gray are classic suit colors for weddings, but don't be afraid to opt for bold colors or patterns. A tailored suit or alterations can ensure a polished look. For black-tie weddings, tuxedos are a formal option and can be rented. Check out Men's Wearhouse for a wide selection of suits and tuxedos.
Shoes and Accessories
Complement your suit with dress shoes and a matching belt. Accessories like cufflinks, ties, and pocket squares can add a personal touch to your outfit. For a wide range of accessories, visit The Tie Bar.
Seasonal Suit Choices
Fabric choice is important for suits. Lightweight materials like cotton or linen are ideal for summer weddings, while wool or cashmere are better for winter weddings. Beach weddings may call for lighter suit colors like khaki or tan, while fall or winter weddings may require darker colors like burgundy or forest green.
Alternative Options for Women
Women can also opt for jumpsuits or pantsuits in addition to dresses. Brands like Nadine Merabi and Kirrin Finch offer statement suits and classic designs for women attending weddings.
Boutonnieres for Men
Boutonnieres are a small but essential accessory for men attending weddings. Options like YSUCAU Rose Boutonnieres and Ling's Moment sets offer beautiful and versatile choices for any wedding theme. Keep the style of wedding decor in mind when choosing boutonnieres.
In summary, choosing the right suit and accessories for a wedding can make a significant difference in your overall appearance. Consider the season, dress code, and personal style when selecting your outfit. With these tips, you'll be sure to look dapper and stylish at any wedding.
Accessorizing Your Outfit
Choosing the perfect accessories for your wedding outfit can make or break your overall look. Accessories play a crucial role in completing your ensemble, so it's essential to select pieces that complement your outfit without overwhelming it. Here are some tips to help you make the right choices.
Balance Your Jewelry
When it comes to jewelry, less is often more. If your dress is heavily embellished, opt for simple pieces like a delicate necklace or a pair of stud earrings. On the other hand, if your dress is more on the minimalist side, a statement necklace or bold earrings can add interest and elevate your look. Remember, the key is to strike a balance between your outfit and your accessories.
Choose the Right Bag
A clutch is the go-to bag for wedding guests, but it's essential to match its formality level to the occasion. For a black-tie wedding, a sleek, metallic clutch is an excellent choice, while a more casual affair may call for a fun, patterned option. H&M and Zara offer a diverse range of summer wedding guest dresses at various price points.
Fall Weddings
As the weather cools down, fall weddings require richer hues and longer hemlines.
Wrap dresses are a versatile option that flatters your figure while providing an adjustable fit. Pair your outfit with functional and fashionable accessories like boots or jackets to stay warm and stylish. Don't shy away from monochromatic black, especially for cocktail affairs.
Winter Weddings
Winter weddings call for cozy, warm attire. Opt for long-sleeved dresses, tights, and coats or wraps to stay comfortable. Accessorize with hats, scarves, and gloves to complete your look. Closed-toe shoes or boots are a practical choice for colder months. Remember, a formal black dress is a safe option for any wedding.
Spring Weddings
Embrace the freshness of spring with lighter, brighter colors, floral patterns, and airy fabrics. Layers may be necessary to stay comfortable during unpredictable weather. Bold earrings and headpieces can add a touch of glamour to your outfit. Choose footwear that is appropriate for the season and venue, such as heels or dressy sandals.
In summary, dressing for a wedding requires careful consideration of the season, venue, and dress code. By keeping these factors in mind, you'll be able to strike the perfect balance between fashionable and comfortable, ensuring you look and feel your best at any wedding celebration.
Dress Code Etiquette
Understanding Wedding Dress Codes
Navigating the world of wedding dress codes can be confusing, but it's essential to adhere to the guidelines set by the couple. Dress codes not only reflect the couple's values and personal preferences but also set the tone for the event's look and feel. In this section, we'll explore some common dress codes and provide tips on how to dress appropriately for each.
Beach Wedding Attire
Beach weddings often call for lighter fabrics like linens or cotton outfits to stay comfortable in the heat. Flowy dresses, lighter jumpsuits, and semi-formal attire are ideal choices for these events. Opt for lighter colors like blue or pink to complement the beach backdrop, and don't forget to wear sandals for comfort on the sand. If you're attending a beach wedding, it's also a good idea to bring a shawl or jacket for chilly moments.
Black Tie and Cocktail Dress
Black tie and cocktail dress codes have clear guidelines, making them a safer option for guests. For black tie events, women should wear floor-length gowns, while men should don a tuxedo.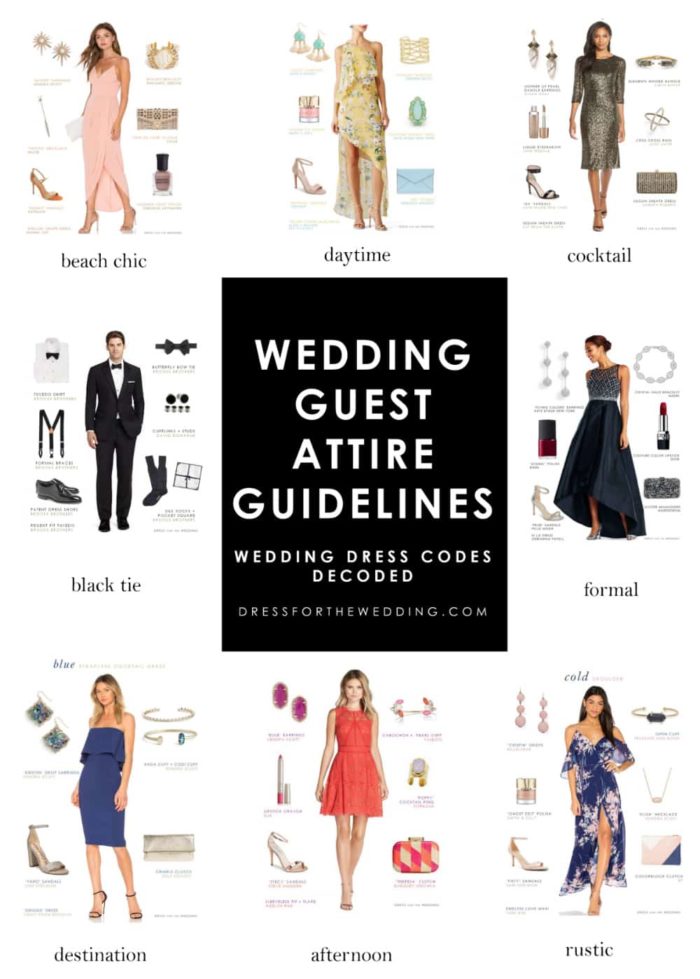 Cocktail attire calls for a more relaxed approach, with women wearing conservative cocktail dresses or chic separates, and men sporting a suit and tie.
Clarifying Dress Code Terms
Some dress code terms like "colorful formal," "creative black tie," or "razzle-dazzle" can be confusing and may result in costume-like outfits. If you're unsure about the dress code, it's best to clarify with the hosts or event organizers. Remember, dressing appropriately not only shows respect to the hosts but also helps you feel comfortable and confident at the event.
Colors and Etiquette
While black is now acceptable to wear to weddings, particularly evening events, wearing white or off-white is still considered disrespectful to the bride. Red is an acceptable choice for formal events as long as it's not too revealing or shiny. Ultimately, it's essential to follow the dress code guidelines and choose colors that suit the event's theme and atmosphere.
In summary, understanding and adhering to wedding dress codes is crucial for both showing respect to the hosts and feeling comfortable at the event. When in doubt, clarify the dress code with the hosts and choose outfits that align with the event's theme and atmosphere. Happy wedding season!